Buy Don's CD's-Now available-- Knight Rider Soundtrack CD! -- Click Here
Don Peake- LA Sessions
Nov 3-Nancy Osborne featuring Don Peake at the Catalina Bar and Grill in Hollywood Ca
Breaking News!
Don Peake Inducted Into
Musician's Hall of Fame In Nashville, TN
November 26, 2007
Don Peake was inducted into the Musician's Hall of Fame as a member of The Wrecking Crew!
www.MusiciansHallOfFame.com
---
| | |
| --- | --- |
| | Don At Grammy Center Talking about Ray Charles |
Don playing the Crown guitar
accepted Feb, 2005 into the
Permanent Collection of Iconic Guitars
at The Rock & Roll Hall of Fame, Cleveland, OH
This guitar was rescued, restored, & returned to Don
thru the generosity of Mr. Larry Epstein of Kirkland, WA
Don Peake is a film composer
who has worked in the music business for many years.
Don has composed music for many films, television shows, and commercials, including the Knight Rider TV series (77 episodes). Two of his films are Academy Award winners.
Don has worked as guitarist and arranger for Ray Charles, Marvin Gaye, Barry White, The Beach Boys, Roy Orbison, Sonny and Cher, John Lennon, The Mamas and the Papas, Jermaine Jackson, and many, many others.
Now available-- Knight Rider Soundtrack CD! -- Click Here
Coming soon... Don's new cd : It's About Time! -- Click Here
Don Peake- LA Sessions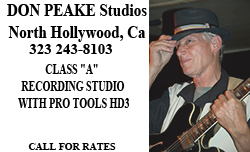 Los Angeles's premier Recording Studio, Specializing in "LIVE RECORDINGS" Home of Mutliple Gold Recordings and Hall of Fame Member Don Peake