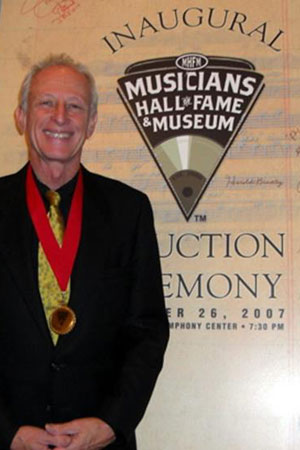 Don Peake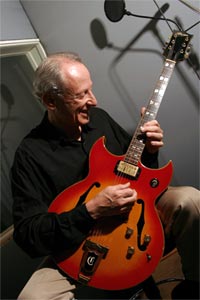 Don Peake is a multi-talented musician who has worked as a guitarist, arranger, record producer, and film music composer. Starting his professional musical career as a guitarist in 1961, Peake's talent was recognized early when he toured as lead guitarist with the Everly Brothers at the age of 21, playing in the U.S. and Europe for two years.
Peake returned to Los Angeles to establish himself as a recording musician, and played for many of the legendary performers under Phil Spector's production including The Righteous Brothers - "You've Lost That Loving Feeling", Ike and Tina Turner - " River Deep Mountain High", as well as recording with Mahalia Jackson, Billy Preston, Cannonball Adderly, Marvin Gaye, and Diana Ross.... more
Ray Parker Jr.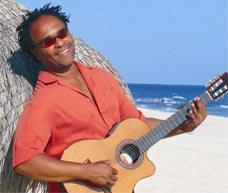 Born in Detroit, MI, Ray Parker Jr. started out as a teenaged session guitarist playing on sessions recorded for Holland-Dozier-Holland's Hot Wax and Invictus Records whose roster listed Freda Payne, Honey Cone, Chairman of the Board, 100 Proof Aged in Soul, Laura Lee, and 8th Wonder. He'd also play behind the Temptations, Stevie Wonder, The Spinners, Gladys Knight and the Pips, and other Motown acts.
Guitarist / songwriter / producer Ray Parker, Jr. had hits as Raydio, with the million-selling "Jack and Jill", and "A Woman Needs Love", and the number one R&B and pop gold single "Ghostbusters". He's co-written hit songs for Rufus and Chaka Khan "You Got the Love" and Barry White's "You See the Trouble With Me"... more
Clarence McDonald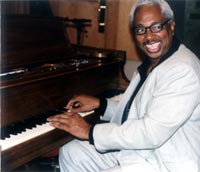 Born in Los Angeles, California on February 24th to Curtis and Ocie, Clarence McDonald showed an early interest in music. Both his parents and Alma Hightower, a prominent music teacher at the time who taught Clarence to play the piano, encouraged his early instincts. The combination of early exposure and unconditional support launched the young man on his journey to becoming a great musician, song-writer and producer.
A highlight of his career was writing and producing the Emotions Platinum Album "Rejoice" with Maurice White. On the album was the #1 pop song, "The Best of My Love".
Also topping his list of memorable achievements was his songwriting contributions to the Platinum album, "This is Niecy" by Denise Williams as well as his role as producer of Bill Withers Gold album, "Menagerie".
Clarence has recorded with Aretha Franklin, Barbara Streisand, Bread, Carly Simon, Carole King, Christopher Williams, Diana Ross , Dionne Warwick, Jackson Browne, James Taylor, Johnny Mathis, Juice Newton, Kenny Rogers, Michael Jackson , Patti LaBelle, Pia Zadora, Ray Charles, Rickie Lee Jones, Seals & Croft, Smokey Robinson, Soul II Soul, The Carpenters, The Jackson Five, Veronique Riviere, Mamas & the Papas, Tina Turner, Johnny Gill, Freddy Hubbard, Phoebe Snow, Gloria Gaynor, The Emotions, Boz Skaggs, Linda Ronstadt, Manhattan Transfer, Ella Fitzgerald, Martha Reeves, Fifth Dimension, Lionel Richie... more
Richard Glasser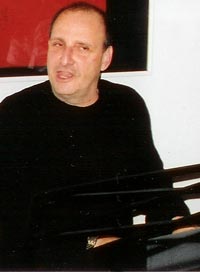 Motown recording artist, Richard Glasser started writing at the tender age of 14... and has never looked back. His songs have been recorded by some of the music industry's top artists, such as Stevie Wonder, Vicki Carr, Anne Murray, Vic Damone and Bobby Sherman. Glasser's scores have been utilized by such notables as Burt Reynolds, Carol Burnett, Clint Eastwood, Diahann Carroll, Ed McMahon, Dick Clark, Debbie Reynolds, Doc Severinson, Joey Heatherton and many others.
Born and raised in Los Angeles, Richard started piano lessons at age 4, studying everything from classical to jazz and while still at Hollywood High, was chosen to perform at the Hollywood Bowl with the All-City Orchestra. One of his first conducting jobs was for Jane Mansfield when he was 16 years old. Since then, he has arranged, conducted, and played for such artists as Diahann Carroll, Joey Heatherton, Beverly Bremers and Robin Wilson.
In 1968, Richard formed his first group called the Soundmen and ended up singing lead, playing piano, conducting, and arranging for the 16-piece group which toured all of the Orient and Southeast Asia. Richard has mastered many instruments besides the piano and all electric keyboards, such as flute (which he studied with the famous Paul Horn), electric bass, drums and various horns. He uses this combination of talents in a unique and inventive way when performing as a solo.
Walfredo Reyes Jr.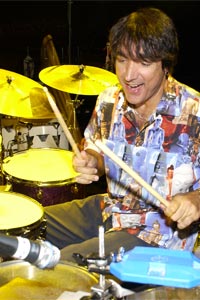 Few drummers playing today can successfully combine the rich history of Latin, Afro-Cuban and World Percussion with the drum set. For Walfredo Reyes Jr., fusing the two disciplines has been his driving passion. In fact, by blazing this path, Reyes has challenged the technical levels of our instrument.
Born in Cuba, raised in Puerto Rico and culminating his musical style in the U.S., Wally (Walfredo Jr.) learned the traditions from the master, his father Walfredo Sr. He married those principles with his love of the drum set, coming up with his own truly global rhythmic style. Simply put, Wally is able to sound like a drummer and a percussionist at the same time. Add blistering chops and a penchant for playing unusual patterns to the mix, and you have only a small idea of what this man can do... more
Oskar Cartaya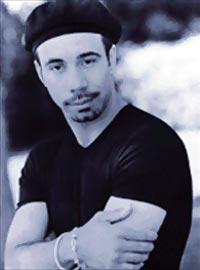 Don't try to categorize Oskar Cartaya, he's always been willing to meet a challenge and conquer musical genres. He can deliver funky, reverberating underpinnings or melodic classicism, switch from a Latin tumbao to rhythm-and-blues licks at a moment's notice. His versatility makes him a much requested sideman, innovative soloist and imaginative producer/arranger. His latest effort is "Passion Dance," the new album by trumpeter Herb Alpert, on which Cartaya collaborated with Alpert to produce and co-write the CD. Alpert's 1997 "Passion Dance" world tour introduced a wider audience to the scope of Cartaya's talent.
Born in New York City and raised in Bayamon, Puerto Rico. Cartaya was determined to become a professional athlete like his grandfather, Raul Alvarez, who played baseball for a Cuban team. "Then one day when I was ten, I woke up and told everyone I was going to be a musician," he recalls. "I don't know why --- nobody in my family has an ear. I guess I was just hypnotized by music... more
Fausto Cuevas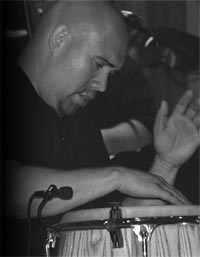 Fausto Cuevas is a native of Brownsville, Texas, where he began playing drums at the age of 11. He continued throughout grade and high school, making his way to Boston's Berklee College of Music, where he discovered his love for percussion and studied with Giovanni Hidalgo and Horacio "El Negro" Hernandez.
From Boston, Fausto traveled to Los Angeles where he currently resides.
In addition to performances at the famed Playboy Jazz Festival and The Blue Note in New York City, Fausto has recorded, performed and toured with artists & projects ranging from Latin to Legend, including Julio Iglesias, Celia Cruz, Teena Marie, Cheo Feliciano, Al Jarreau, Tito Nieves, Nestor Torres, Roy Hargrove, and Britney Spears (who he joined for her Onyx Hotel 2004 World Tour). Fausto recently completed the 2005 Sugarwater Festival with Queen Latifah, and performed at the World Music and Lady of Soul Music Awards with Sheila E and Amerie... more